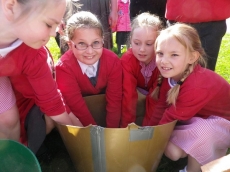 Great Outdoors uses wildflowers and creative nature to improve health and wellbeing in Knowsley. Richer natural greenspaces impact positively on health, most significantly in deprived greenspaces.
GO aims to encourage better quality and awareness of healthy greenspace; increase physical activity; improve mental wellbeing; better social relationships; decrease social isolation, volunteering and skills; growing and awareness of healthy foods.
Great Outdoors is also supporting creative nature and gardening events at the National Wildflower Centre, to encourage more people to see their local environment as a resource for health and wellbeing. From paper making to nature walks and outdoor picnics, hanging basket workshops and storytelling, nature provides that Natural Chill!
Woolfall Heath Celebration 10th August 2013
Woolfall Heath Meadow was awarded UNESCO's Man and the Biosphere recognition for its creative conservation technique in 2004. These new works have included opening up new pathways for walking and cycling, creating new signs & fencing, a viewing platform for the River Alt and management of wildflowers, reedbeds and its small woodlands.